Recent Partner Accomplishments:

 

A2000 has signed up as a reseller and offering certified installation services for AirTight Wireless Intrusion Prevention Systems (WIPS).  Successfully protecting Dolphin Enterprise LAN networks today.

Overview of Offering

For enterprises with wireless LAN networks, as well as those without, Wi-Fi brings a new set of security threats that cannot be protected against by your current firewall and VPN security systems. Insecure deployments of wireless Access Points (APs) called Rogue APs, often done without malice by your own employees, can open up your network to potential hackers exposing confidential information about your business, customers, products and services. Client mis-associations may lead to additional vulnerabilities. The SpectraGuard® Enterprise Wireless IPS solves these problems by delivering similar protection as a wired firewall, but focused on your corporate airwaves.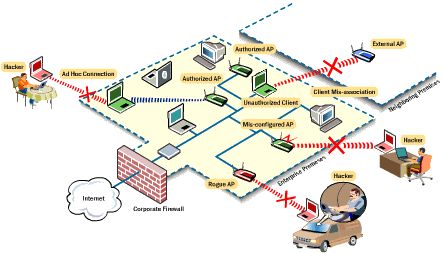 > Automatically identify and prevent security risks and attacks
> Provide real-time network audits
> Assist in performance troubleshooting
> Monitor the overall health of the wireless LAN

http://www.airtightnetworks.com





 

Best of bread hosted VoIP services.  The SMB market can now enjoy all the features of a large PBX system at a "true" controlled monthly cost structure.

Covad ClearEdge Voice services (VoIP) are revolutionizing the way businesses communicate. Advanced features combined with our reliable managed network, best-of-breed customer support, and voice-optimized technology help you get more from your business VoIP telephone system. It is all in the design and proven network reliability.

A Better Way to Deliver VoIP

Many VoIP providers "piggyback" on other companies' networks or use the public Internet exclusively to handle phone calls. Covad manages its own business-class network, and we are able to optimize voice traffic to help ensure that your call quality doesn't suffer when data traffic is high. With Covad, most people cannot tell the difference between VoIP and traditional voice calls.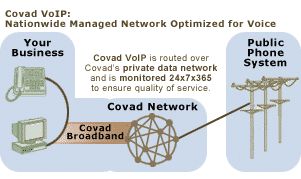 > Improve communications ROI
> Increase productivity
> Seamless transition
> Business-class reliability
> Business continuity (important for the recent years of hurricane activity)


www.Covad.com/services/voip/index.html






Sprint is the leading provider of WAN solutions for "Wireline" and "wireless" data services. A2000 thinks that a solid cellular, voice, and IP data network is very important for the next generation of IP communications.

Sprint MPLS (Multiprotocol Label Switching) VPN(SM) is the comprehensive solution for enterprise network requirements. This bandwidth-management service can connect multiple off-site locations while also converging voice, video, and data onto one network at required performance levels. It is a network-based solution that is intelligent, understanding the varying needs and performance parameters for different types of traffic.

With network intelligence also comes flexibility. CPE-based management and upgrades are not necessary. Sprint MPLS VPN dramatically simplifies management for the customer. Upgrades are available when and where you need them. Subscribe to additional network-based, value-added services, like secure Internet gateways and remote access (which have traditionally been relegated to the customer premise), at any time. With built-in carrier-grade redundancy, there's no need to make costly upfront investments.

Sprint MPLS VPN is a highly scalable and secure solution that truly allows you to consolidate all of your applications, end-users, and support infrastructure onto a single global network. Keep all your stakeholders connected, today and tomorrow. It's the secure solution that allows you to focus on your business and not your network infrastructure.

http://www.sprint.com/business/products/sections/internetAndIp.html


BelAir Networks First To Guarantee Performance and Coverage in Municipal Wireless Networks Certified network design program offers first SLA to cities and service providers

"A major factor for our partnership with BelAir Networks was the industry-leading performance that their wireless mesh network solutions deliver," stated Joe Caldwell, US Internet Co-Founder and CEO. "We've always provided SLAs to our customers and now it's great to work with a manufacturer that offers that level of assurance to us." US Internet is currently deploying a 60-square-mile broadband wireless network to cover the entire City of Minneapolis with BelAir Networks industry-leading mobile broadband mesh networking solution.

As the wireless network industry matures, service providers and cities must be assured a reliable and consistent level of coverage and performance in order to support increasingly sophisticated network services using voice, video and data. More municipal networks are also extending their business models to include tiered offerings for residential users and enterprises where sustained internet connection speeds of 1 Mbps, 2 Mbps or 4Mbps are required. BelAir Networks is the first vendor to offer a performance and coverage guarantee to ensure desired levels of service, predictability and QoS.



Cisco Human Network

Deliver the best user experience, increase operational excellence, and innovate with a comprehensive set of Cisco network solutions that address the present and future needs of your business, whether it is large or small. Human Network One of the clearest human derivatives of the Human Network -- enabled by mobility -- is the increasing breakdown of the wall between our personal and our work lives. As our brand campaign reminds people, "work is an activity, not a place."

The ability to work, when you need to work, wherever you need to work now means wireless networks, security, and unified communications now provide seamless access to people, assets and critical information. Now you can:

- Catch up on a product development project at a coffee shop on vacation
- Get a message from your kids they arrived safely home from school during a snowstorm, even when you are in a foreign country on business
- Set up a 3 way video call with your team around the world.

Now your business moves with you.
 
There is a second order derivative that goes with this mobile transformation. For many, how they define themselves, from a technology usage perspective is changing. The traditional segmentation that you might get in a market research study tends to put you in 1 of 3 categories consumer, business or student. However, technology is bleeding across these categories and how you define yourself is changing. My favorite definition of this dissolution is the "prosumer." People are now professionals and consumers at the same time.

From a mobility point of view, the requirement is to have the same IT resources, applications, services and security available to me wherever I am. Effectively, this means I want to be as effective professionally when I am not in the office than when I am in the office. As a consumer, I want to be able to run my life when I am not home.

In the next few blogs, stay tuned for some perspectives on how technology must adapt to meet the people requirements of this evolving world.

Things are going to get mixed up, As Mark Twain said in Following the Equator

"The compass in my head has been out of order from my birth . . . In me the east was born west, the battle-plans which have the east on the right-hand side are of no use to me."